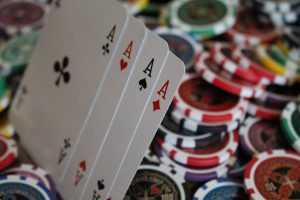 5 Tips On How To Become A Poker Expert
Many people see poker as a means to make huge financial gains and lead exciting lives. They are now joining the poker bandwagon in the hope of earning a
quick buck and traveling to wonderful locales worldwide to play in competitions and tournaments. But the truth is, you need to be a poker expert before you can
start seeing those rewards from the game.
To help you get a head-start, here are some tips we've put together on how to become a poker expert.
1. Learn the intricacies of the game
If you're just starting out in the world of gambling and poker, you need to first do a lot of research about the game. This will mean starting at the very
beginning — from learning how to play the game to understanding its different forms. You can start by checking out informational videos and articles online or
turning to books and even movies. There are also a large number of training programs you can opt for. Choosing a mentor, however, is one of the most
recommended ways to help you learn the intricacies of the game.
2. Focus on a game you're good at
Even if you're a novice, you've most likely heard of the popular Texas Hold ?Em poker game, which is one of the most common games that people choose
when starting their gambling journey. However, this is just one variant of the game and there are many others that you can choose from. Each one has different
rules and requires different strategies and skills. To become a poker expert, focus on a game you're really good at – ideally one that allows you to naturally play
to your innate strengths.
3. Practice, practice, practice
As is true with anything that requires constant upskilling, poker also requires determination and continuous practice before you can claim to be an expert. Many
online gambling websites allow you to practice online through a variety of practice games they offer. You can also buy a home set that you can use to help you
practice with your friends and family. Use these practice sessions to sharpen your techniques and develop your strategies. Ensure you practice regularly and
display consistency in your game to emerge a master at it.
4. Think like a businessman
The game of poker is as much about strategies and skill sets as it is about great business sense. To be a poker expert, you need to manage your bankroll
effectively and think like a good businessman. In other words, you need to play based on your strengths and your bankroll, allowing these to decide the stakes
and tables that you choose. Don't overspend and always play within your limits. Only then can you maximize your profits and minimize your losses.
5. Have a sound exit strategy
It's important to know that there's no way to be the winner of every game of poker you play. That's why, it's equally important you know when to exit the
game. Most poker experts understand the importance of picking the winning hands and knowing the most apt moment to fold. While you may be optimistic
about your ability to turn around a losing game, it's always better to err on the side of caution and stem your losses as soon as you can. If you want to avoid
losing more money and possibly even avoid a bankruptcy, you should know when to stop.
To sum up, becoming a poker expert requires a great deal of hard work and practice, combined with the right skills and experience. If you're ready to sign up
for that, the potential rewards are endless.